With so many images of Pueblo Bonito, it became necessary to "divee-up"
the collection in "web-manageable" chunks. Hence this artificial division:

part 0

part I

part II

part III

part VI
13.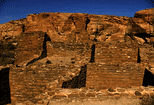 turning 45° to the left from 11-12, a series of lower-floored interior rooms is visible
14.

now in the southwest corner of the Pueblo, attempting another "panorama view",

15.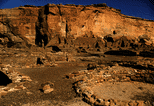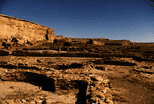 16.
looking back to the northeast (15), . . . and due east (16).
17.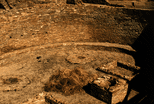 looking into a larger kiva; note the same seating pits+raised floor vaults
with firebox in the center as in the Chetro Ketl's Great Kiva, 7
18.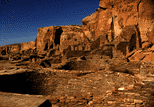 moving a little to east of 17, looking back in the direction of the rear north wall
19.


now moving into the eastern segment of still-high-standing walls,
looking into a section that was at least 3 stories tall
20.


this was looking north up into the corner of one of the rooms
in the trail map locations 12-14

21.

22.


in the southeastern-most room (west of trail map #16) looking N-W-N into 3 doorways;
note the larger curvature of the Pueblo visible in the line set off by these doorways--the third
(deepest) threshold is clearly bending to the west, mirroring the shape of the whole structure.
With so many images of Pueblo Bonito, it became necessary to "divee-up"
the collection in "web-manageable" chunks. Hence this artificial division:

part 0

part I

part II

part III

part VI
Chetro Ketl

Pueblo del Arroyo

Casa Chiquita

Kin Kletso

Casa Rinconada
WUPATKI

MESA VERDE

AZTEC

CHACO CANYON
---