Casa Rinconada,
Chaco Canyon, San Juan Basin, New Mexico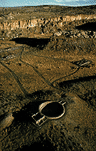 Arriving at Casa Rinconada in the middle of the afternoon (Wednesday, October 31st), after revisiting the immesity of Pueblo Bonito, a very different feeling manifested being in and around such a massive single structure. Unfortunately, no photogs were snapped of the small house sites in this vicinity, but these are described in the 1995 site guide (no site guide of Casa Rinconada was obtained during the 1990 visit) -- and are partially visible in image at the left from the National Geographic, November 1982 issue. Casa Rinconada was apparently constructed in the middle of the eleventh century.
1.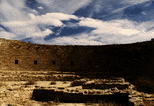 standing close to the western side, facing east across the floor vaults and firebox
with the sky's magnificence standing-in for the once existent roof
2.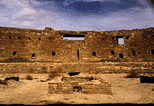 moving to the southern edge, facing north
across the firebox to the entryway of the antechamber

quoting from the site guide,
Like other great kivas, the internal alignment of the features are set on a north-south axis. However, those of Casa Rinconada are within one degree of true north, and when this axis is extended, it connects with the great houses of Tsin Kletzin and Pueblo Alto. This precise orientation of features and alignments is seen throughout the canyon and is repeated in the road networks and at outlying great house communities.
4.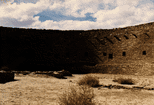 moving across the kiva from 1 and to the north, facing west
with the west-side floor vault and firebox edge visible
3.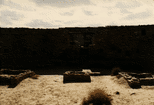 standing below the entryway to the northern antechamber, facing south
where a smaller entrance chamber was also constructed
5.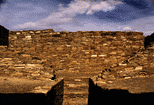 turning 180° from 3, and walking up the stairs of the antechamber,
the stairway is revealed providing access to the once-hidden stone-lined trench
which enabled entry into the kiva from the floor (see 11 & 12, below).
6.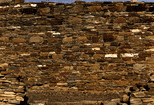 a closeup of the wall at the end of the room past the hidden stairway in 5
7.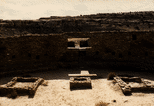 up inside the northern antechamber,
looking south across to the kiva to the southern entrance
8.

down inside the hidden stairway looking up to the north
9.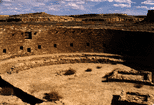 outside the eastern rim of the kiva looking across to the west
10.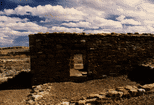 looking east into the northern antechamber's doors through both sides
11.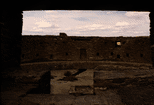 looking north from the southern entryway, the light momentarily dimmed
when the sun was obscured by an extra-thick cloud
12.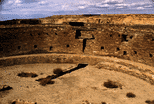 with the cloud continuing on its journey,
another view from above the southern entryway to the north.

Chetro Ketl

Pueblo Bonito

Pueblo del Arroyo

Casa Chiquita

Kin Kletso
WUPATKI

MESA VERDE

AZTEC

CHACO CANYON
---