With so many images of Pueblo Bonito, it became necessary to "divee-up"
the collection in "web-manageable" chunks. Hence this artificial division:

part 0

part I

part II

part III

part IV
1.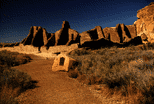 entering southeast corner of the site, looking W-N-W, October 30, 1990
2.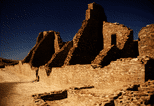 approaching the corner; throughout the visit, the masonry astonished the senses
3.

turning more towards the north from position 2
4.


looking out across this great house from the vantage point of the collapsed canyon cliff sandstone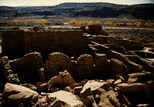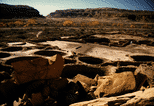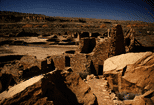 5
6
7
the separate images making up the panarama concocted as 4
8.


facing west, approaching the highest remaining section of the rear wall;
--this was 5 stories tall at the north, rear side of the Pueblo
9.


looking back to the east at this same section of still-standing rear wall, and
10.

facing east looking at the western-most edge of the rear wall.
11.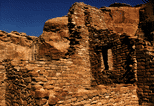 12.
moving inside the Pueblo along the path from the northern-most rear,
a clearly visible "Type II" section of masonry in both landscape as well as portrait form.
With so many images of Pueblo Bonito, it became necessary to "divee-up"
the collection in "web-manageable" chunks. Hence this artificial division:

part 0

part I

part II

part III

part VI
Chetro Ketl

Pueblo del Arroyo

Casa Chiquita

Kin Kletso

Casa Rinconada
WUPATKI

MESA VERDE

AZTEC

CHACO CANYON
---
tree
Index

Search