Cliff Palace,
Mesa Verde, Colorado
Cliff Palace was visited Sunday midday after Square Tower House. Consisting of 217 rooms and 23 kivas, this is reputed to be the largest cliff dwelling on Turtle Island. Estimates are this dwelling was built around 1200 and housed some 200 to 250 people. A site guide provides more information about this dwelling.
1.

looking east from the overlook across Cliff Canyon to Cliff Place
2.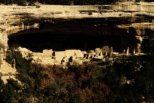 3.

"landscape" version of 1 . . . ,

and zooming in from same location as 1 and 2
4.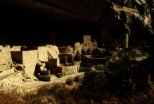 approaching Cliff Palace from the one-way path entering from the north -- this
path was the same used by the original builders and inhabitants almost 800 years ago
5.

facing south from the first terrace level almost in the center front of the site



back at the overlook to the north-west where the path begins, and

6.
7.
zooming in on the south-half of the Palace
Far View House
Square Tower House
Spruce House
WUPATKI

MESA VERDE

AZTEC

CHACO CANYON
---