back to JFK | ratville times | rat haus | Index | Search | tree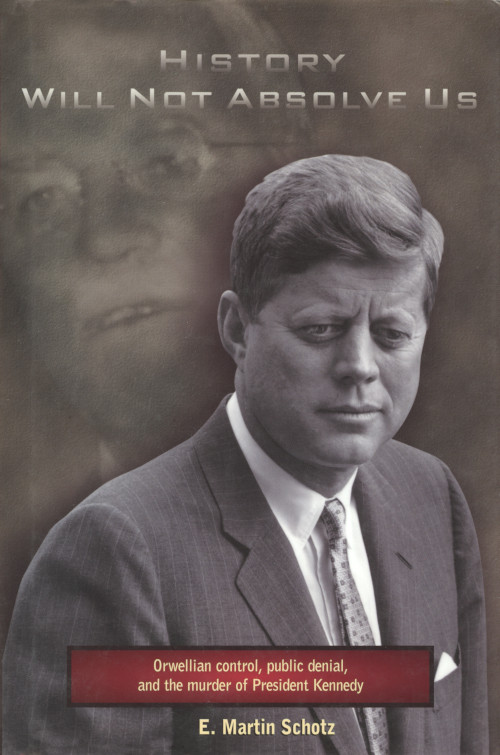 History Will Not Absolve Us
---
Orwellian control, public denial,
and the murder of President Kennedy
E. Martin Schotz
KURTZ, ULMER, & DE LUCIA BOOK PUBLISHERS
BROOKLINE, MASSACHUSETTS
1996
7 Feb 2023: As of today, all copies of the 1996 hardcover of History Will Not Absolve Us have been sold.
On February 14, 1895 Captain Alfred Dreyfus, a Jew, was deported to Devil's Island as a result of a frame-up by the French military command. His conviction fanned anti-Semitism and weakened the French Republic. Not until 1906 was he exonerated.

On June 11, 1924 in Italy, Giacomo Matteotti, a valiant and handsome anti-Fascist Socialist Parliamentarian of a well-to-do family, was killed by followers of Mussolini. Because of the lack of effective response to this attack, Mussolini was able to consolidate his totalitarian grip on Italy, leading to a militarization of Italian society and the disastrous Italian alliance with Hitler.

On December 1, 1934 Sergei Mironovich Kirov, Lennigrad's First Secretary, was assassinated in a plot traced to Stalin. The failure of the Russian people to respond adequately to this murder led to the crushing of all political opposition and to Stalin's reign of terror.

On November 22, 1963 President Kennedy was assassinated in a conspiracy organized at the highest echelons of power in Washington. Lee Harvey Oswald, a low-level CIA agent, was immediately labeled the lone assassin by the U.S. government, and then murdered. The failure of the American people to face the truth of the Kennedy Assassination and deal effectively with it, is our Dreyfus case, our Matteotti case, our Kirov case.

Part psycho-social analysis and part documentary compilation, this unusual book reveals the Orwellian techniques by which the public has allowed itself to be led into confusion about the assassination and assembles the documentary evidence necessary to know without a doubt who killed President Kennedy and why. As such it stands as a critical resource awaiting citizens who need to inform themselves in the process of building a social, economic, and political democracy capable of living in peace with itself and the rest of the world.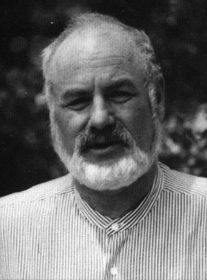 About the Author

E. Martin Schotz, MD, practices psychiatry in Boston, Massachusetts. He has a BA in Mathematics from Carleton College, and an MD from the University of Pennsylvania. Following training in Adult and Child Psychiatry at Boston University Medical Center, he was a graduate student in the University Professors Program at Boston University. In addition to practicing psychiatry he is a playwright, essayist, short story writer, and amateur jazz drummer.
---
To our children, all our children, the children of
the world, who someday will want to know.
The Wayfarer

The wayfarer,
Perceiving the pathway to truth,
Was struck with astonishment.
It was thickly grown with weeds.
"Ha," he said,
"I see that no one has passed here
In a long time."
Later he saw that each weed was a singular knife.
"Well," he mumbled at last,
"Doubtless there are other roads."

Stephen Crane
On "Crimestop"

The first and simplest stage of discipline, which can be taught even to young children, is called in Newspeak, Crimestop. Crimestop means the faculty of stopping short, as though by instinct, at the threshold of any dangerous thought. It includes the power of not grasping analogies, of failing to perceive logical errors, of misunderstanding the simplest arguments if they are inimical to Ingsoc, and of being bored or repelled by any train of thought which is capable of leading in a heretical direction. Crimestop, in short, means protective stupidity.


George Orwell, 1984









On Belief Versus Knowledge

It is so important to understand that one of the primary means of immobilizing the American people politically today is to hold them in a state of confusion in which anything can be believed but nothing can be known, nothing of significance that is.

And the American people are more than willing to be held in this state because to know the truth — as opposed to only believe the truth — is to face an awful terror and to be no longer able to evade responsibility. It is precisely in moving from belief to knowledge that the citizen moves from irresponsibility to responsibility, from helplessness and hopelessness to action, with the ultimate aim of being empowered and confident in one's rational powers.


Unpublished letter, E. Martin Schotz to
Vincent J. Salandria, May 14, 1992



Today most Americans believe there was a conspiracy to kill President Kennedy, but they don't know it. They don't want to know it — and our government doesn't want to know it and our elected representatives don't want to know it, because knowing it would mean having to do something about it. That is an awesome thought.


Gaeton Fonzi, The Last Investigation







---
This is not one more book presenting a theory over the "mystery" of President Kennedy's assassination. There is no mystery. . . and no new "theory." What Dr. Schotz does is something that you should do yourself: analyze carefully and logically the anthology of documents... If we are shocked at what we find in the end, perhaps this shock will help to open our eyes to what really happened in Dallas on that fateful day and to its aftermath.

R. Cardona


History Will Not Absolve Us is written for a boundless non-market of individuals who are not afraid, but anxiously seek, to have their thinking taken off its comfortable tracks, so as to be tested on more challenging and perhaps better embedded and truer lines. Each strand of this book's analysis is woven into a developing pattern by an excellent web of reasoning that stretched my thinking to an incredible degree and stirred me to re-examine issues I thought were comfortably settled.

Gaeton Fonzi, Author of The Last Investigation





Editor's Note:

This hypertext representation of Martin Schotz's 1996 book, History Will Not Absolve Us is reproduced with the author's permission. I am exceedingly grateful to the author for allowing me the privilege of creating this electronic form of his book and for his encouragement and advice during its production. All hyperlinks, white background boxes and white text background segments [enclosed in square braces] are additions made in this presentation. Thanks go to Rebecca Lord for her invaluable assistance checking all link references to the Warren Report and 26 Volumes of Hearings and Exhibits in Vincent Salandria's three articles in Appendix III.

Hyperlinks to most book titles go to WorldCat.org, "the world's largest network of library content and services. WorldCat libraries are dedicated to providing access to their resources on the Web, where most people start their search for information." These links were accessed from the greater Boston area. Enter your zip or postal code (e.g. 43017 or S7K-5X2), City and/or state (e.g. Cincinnati, Ohio or Ohio or OH), Province: (e.g. Ontario or ON), Country: (e.g. United States or United Kingdom), or Latitude Longitude (e.g. 40.266000,-83.219250) to see listings of libraries where you live. Where possible book title links reference the precise edition cited. Where such editions could not be found, alternate versions are linked to. Rare out-of-print books are not linked due to their scarcity. Alternatively to worldcat.org, some titles link to OpenLibrary.org, an open, editable library catalog, building towards a web page for every book ever published. Open Library is a project of the non-profit Internet Archive, and has been funded in part by a grant from the California State Library and the Kahle/Austin Foundation.


—David Ratcliffe, 13 March 2013
back to JFK | ratville times | rat haus | Index | Search | tree