Chernobyl
Consequences of the Catastrophe for People and the Environment
Written by Alexey V. Yablokov (Center for Russian Environmental Policy, Moscow, Russia),
Vassily B. Nesterenko (head of Ukrainian Nuclear estab. at time of accident (deceased)),
and Alexey V. Nesterenko (Institute of Radiation Safety, Minsk, Belarus).
Consulting Editor Janette D. Sherman-Nevinger (Environmental Institute,
Western Michigan University, Kalamazoo, Michigan).
Annals of the New York Academy of Sciences
,
Volume 1181
, December 2009, 335 Pages
local
PDF copy of 2009 book
[344 pages]
local
PDF copy of 2011 Edition with Subject Index
[387 pages]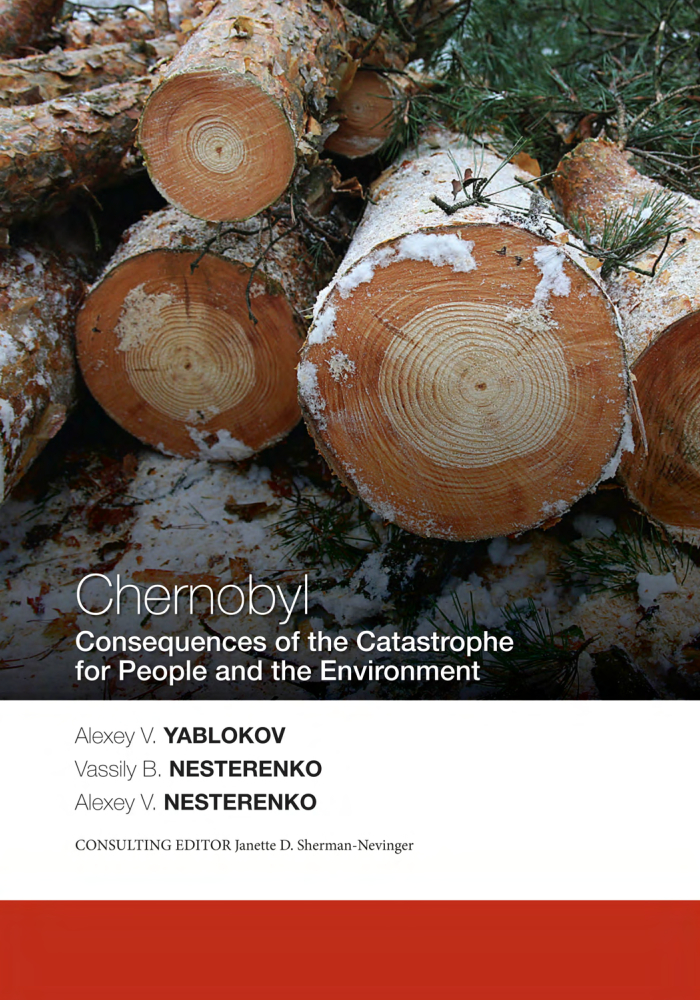 Fukushima & Chernobyl: Joined At The Hip
Russian Biologist Reveals the Truth About Low-Dose Radiation Risks
May 2011 reprint
of
Chernobyl: Consequences of the Catastrophe for People and the Environment
,
This book is the only publication to document non-cancer incidence and mortality in countries outside the Russian Federation, Ukraine, and Belarus and serves as a frame of reference and counterweight for officials who are obscuring the full scope of the Fukushima Dai-ichi disaster. First published by the prestigious New York Academy of Sciences (Nov. 2009 in its ANNALS), it is now out of print, causing lead author, eminent Russian biologist Doctor Alexey Yablokov, to request the right to reprint (recently granted). This reprint edition includes a separate index that was not part of the original book. Dr. Yablokov contacted his Consulting Editor, Dr. Janette D. Sherman-Nevinger, MD, and Dr. Timothy Mousseau, Associate Vice President for Research & Graduate Education, University of South Carolina, and asked them to be his agents in the U.S.
In her brief assessment Dr. Sherman ties Chernobyl to the current low-dose releases in Japan. "As we watch the events unfold at Fukushima Nuclear Plant in Japan, radioactive nuclides are spreading around the entire northern hemisphere. Professor Yablokov and his colleagues cite some 2,000 studies of wild and domestic animals, birds, fish, plants, trees, mushrooms, bacteria, viruses, and yes–humans–that were altered, some permanently as a result of the Chernobyl radioactive releases. Animals and humans developed similar abnormalities and diseases, including birth defects and cancers. Radioactive releases from Chernobyl continue today–25 years later. This book documents the never-ending perils from nuclear power."
In a 25 March 2011 press conference in Washington, Dr. Yablokov observed that the long-term health and environmental consequences of the Fukushima accident could surpass those from Chernobyl. He stated, "Because the area is far more densely populated than around Chernobyl, the human toll could eventually be far worse in Japan. It's especially dangerous if plutonium is released (reports say it has) as inhalation results in a high probability of cancer. A release of plutonium will contaminate that area forever and is impossible to clean up."
A million people have died so far as a result of the 1986 Chernobyl nuclear plant accident, explains Janette Sherman, M.D., toxicologist and contributing editor of the book Chernobyl: Consequences of the Catastrophe for People and the Environment. Published by the New York Academy of Sciences, the book, authored by Dr. Alexey Yablokov, Dr. Vassily Nesterenko and Dr. Alexey Nesterenko, examined medical records now available – which expose as a lie the claim of the International Atomic Energy Commission that perhaps 4,000 people may die as a result of Chernobyl. Enviro Close-Up # 610 (29 mintes)

Karl Grossman, Global Research, 3 September 2010

In his foreword, Dr. Dimitro Grodzinsky, chairman of the Ukranian National Commission on Radiation Protection, writes about how "apologists of nuclear power" sought to hide the real impacts of the Chernobyl disaster from the time when the accident occurred. The book "provides the largest and most complete collection of data concerning the negative consequences of Chernobyl on the health of people and the environment.... The main conclusion of the book is that it is impossible and wrong 'to forget Chernobyl.'"...

The book details

the spread of radioactive poisons

following the explosion of Unit 4 of the Chernobyl nuclear plant on April 26, 1986. These major releases only ended when the fire at the reactor was brought under control in mid-May. Emitted were "hundreds of millions of curies, a quantity hundreds of times larger than the fallout from the atomic bombs dropped on Hiroshima and Nagasaki."...

There is an examination of genetic impacts with records reflecting an increase in "chromosomal aberrations" wherever there was fallout. This will continue through the "children of irradiated parents for as many as seven generations." So "the genetic consequences of the Chernobyl catastrophe will impact hundreds of millions of people."...

Further, "the concentrations" of some of the poisons, because they have radioactive half-lives ranging from 20,000 to 200,000 years, "will remain practically the same virtually forever."

[Near the end of the book,] "The Chernobyl catastrophe demonstrates that the nuclear industry's willingness to risk the health of humanity and our environment with nuclear power plants will result, not only theoretically, but practically, in the same level of hazard as nuclear weapons."
15.8. It Is Impossible to Forget Chernobyl

1. The growing data about of the negative consequences of the Chernobyl catastrophe for public health and nature does not bode well for optimism. Without special large-scale national and international programs, morbidity and mortality in the contaminated territories will increase. Morally it is inexplicable that the experts associated with the nuclear industry claim: "It is time to forget Chernobyl."
2. Sound and effective international and national policy for mitigation and minimization of Chernobyl's consequences must be based on the principle: "It is necessary to learn and minimize the consequences of this terrible catastrophe."


Chapter 15

. Consequences of the Chernobyl Catastrophe for Public Health and the Environment 23 Years Later,

page 326

.
Janettte D. Sherman, M. D., 31 May 2010

The link between U. S. atomic veterans and Chernobyl victims is even closer. The Army's Infantry School Quarterly asserted: "A soldier is not a casualty until he requires treatment. Even though he has been exposed to a lethal dose of radiation, he can perform his combat mission until symptoms appear." The 1987 Central Military Commission of the USSR Ministry of Defense declared: "The presence of acute somatic illness and activation of chronic disease in persons who were involved in liquidation (the clean up workers) who do not have acute radiation sickness, the effect of ionizing radiation should not be included in the causal relationship." Denial is a strong tool—it supports dangerous industries and denies relief to those who are harmed. But these actions are more than denial—these are lies....
While the book documents the health and environmental devastation, the economic and political costs from the Chernobyl catastrophe have been enormous. With so many children physically and mentally stunted, many not even born at the time of the disaster, it will be very difficult for families to earn a living and maintain needed familial bonds, and with so much of the budget diverted to care for sick and disabled people, it will be difficult for citizens to develop an independent society that can make needed political, social and economic decisions. Who will challenge the status quo if most of a society is un-well, poorly educated, and impoverished? There was a collapse of the life expectancy in Russia, plunging to 57-59 for men during the 1990s, now 61 years as of 2009, largely blamed on the "collapse of the Soviet Union'" but what contributed to that collapse?
It is impossible to understand that the U. S., one of the wealthiest countries in the world, could not pass into law provisions to extend medical care to all citizens, rich, poor, young and old, while at the same time some $54 billion has been proposed in loan guarantees to build seven new nuclear power plants, this on top of $18.5 billion in guarantees provided in 2005. With documented deterioration of health, lack of preventive and restorative medical care coupled with loss of economic stability for many citizens, it is a matter of a few years before the U. S. reaches a social calamity.

Environmental News Service, 26 April 2010

Drawing upon extensive data, the authors estimate the number of deaths worldwide due to Chernobyl fallout from 1986 through 2004 was 985,000, a number that has since increased....
Yablokov and his co-authors find that radioactive emissions from the stricken reactor, once believed to be 50 million curies, may have been as great as 10 billion curies, or 200 times greater than the initial estimate, and hundreds of times larger than the fallout from the atomic bombs dropped on Hiroshima and Nagasaki....
About 550 million Europeans, and 150 to 230 million others in the Northern Hemisphere received notable contamination. Fallout reached the United States and Canada nine days after the disaster....
The authors of the study say not enough attention has been paid to Eastern European research studies on the effects of Chernobyl at a time when corporations in several nations, including the United States, are attempting to build more nuclear reactors and to extend the years of operation of aging reactors.
The authors said in a statement, "Official discussions from the International Atomic Energy Agency and associated United Nations' agencies (e.g. the Chernobyl Forum reports) have largely downplayed or ignored many of the findings reported in the Eastern European scientific literature and consequently have erred by not including these assessments."

Dr. Rosalie Bertell, Global Research, 12 February 2010

The authors systematically explain the secrecy conditions imposed by the government, the failure of technocrats to collect data on the number and distribution of all of the radionuclides of major concern, and the restrictions placed on physicians against calling any medical findings radiation related unless the patient had been a certified "acute radiation sickness" patient during the disaster, thus assuring that only 1% of injuries would be so reported.
15.5. Chernobyl Releases and Environmental Consequences

5. In 1986 the levels of irradiation in plants and animals in Western Europe, North America, the Arctic, and eastern Asia were sometimes hundreds and even thousands of times above acceptable norms. The initial pulse of high-level irradiation followed by exposure to chronic low-level radionuclides has resulted in morphological, physiological, and genetic disorders in all the living organisms in contaminated areas that have been studied—plants, mammals, birds, amphibians, fish, invertebrates, bacteria, and viruses....
11. Wildlife in the heavily contaminated Chernobyl zone sometimes appears to flourish, but the appearance is deceptive. According to morphogenetic, cytogenetic, and immunological tests, all of the populations of plants, fishes, amphibians, and mammals that were studied there are in poor condition. This zone is analogous to a "black hole"—some species may only persist there via immigration from uncontaminated areas. The Chernobyl zone is the microevolutionary "boiler," where gene pools of living creatures are actively transforming, with unpredictable consequences....
13. For better understanding of the processes of transformation of the wildlife in the Chernobyl-contaminated areas, radiobiological and other scientific studies should not be stopped, as has happened everywhere in Belarus, Ukraine, and Russia, but must be extended and intensified to understand and help to mitigate expected and unexpected consequences.


Chapter 15

. Consequences of the Chernobyl Catastrophe for Public Health and the Environment 23 Years Later, pages

323

-

324

.