Marking 16 Years of the US Global War Of Terror
Guy Debord
: In 1967, in a book entitled
The Society of the Spectacle
, I showed what the modern spectacle was already in essence: the autocratic reign of the market economy, which had acceded to an irresponsible sovereignty, and the totality of new techniques of government that accompanied this reign....
Spectacular domination's first priority was to eradicate historical knowledge in general; beginning with just about all rational information and commentary on the most recent past.... With the destruction of history, contemporary events themselves retreat into a remote and fabulous realm of unverifiable stories, uncheckable statistics, unlikely explanations and untenable reasoning....
All experts serve the state and the media and only in that way do they achieve their status. Every expert follows his master, for all former possibilities for independence have been gradually reduced to nil by present society's mode of organization. The most useful expert, of course, is the one who can lie. With their different motives, those who need experts are falsifiers and fools. Whenever individuals lose the capacity to see things for themselves, the expert is there to offer an absolute reassurance....
Such a perfect democracy constructs its own inconceivable foe, terrorism. Its wish is to be judged by its enemies rather than by its results. The story of terrorism is written by the state and it is therefore highly instructive. The spectators must certainly never know everything about terrorism, but they must always know enough to convince them that, compared with terrorism, everything else must be acceptable, or in any case more rational and democratic. —
Comments on the Society of the Spectacle
, 1988
"It is a sobering thought that better evidence is required to prosecute a shoplifter than is needed to commence a world war." —
Anthony Scrivener QC
,
The Times
, 5 Oct 2001
"It is different than the Gulf War was, in the sense that it may never end. At least, not in our lifetime." —
Dick Cheney
, 21 Oct 2001
Legend has it the Cold War was closed out in 1991. 10 years later, its Next Generation spawn was inaugurated. 16+ years into this war that will not end "in our lifetime", it is our moral responsibility to reveal its covert and overt roots and, in doing so, end it given that it is being done in our name every single day.
"Your loyalty belongs to the human race and not to a flag, not to a country that's supposedly under attack from some mystical force that's out there that you can't even identify—I mean, these terrorists, the way they're presented to us, it's as if they dropped in from outer space. All you know about them is that they hate you and they want to kill you. You can't negotiate with them. You can't talk to them. You can't
understand
them. All you can do is
kill
them. And you got to kill every last one except, you never know.... It's like the pod people, you know, maybe it's spread to somebody else and then you've got to start killing them." —
John Judge
, 21 Feb 2005
Ed Curtin:
Graeme MacQueen:
John Judge:
Antidote to September 11 – Exercising Our Imagination:
John Judge was an unparalleled historian of the US National Security State. An exemplar earthling, his loyalty was to the human race, not to a flag or a country.
by David T. Ratcliffe
Dr. William Francis Pepper, Esq
: Martin Luther King was much more than a civil rights leader and that's what no one in official capacity wants you to know. He had become effectively a world-figure in terms of human rights people and particularly the poor of this earth. That's where he was going. That's the area you don't really get into safely when you start talking about redistributing wealth. Diverting huge sums of money into social welfare programs and health programs and educational programs at the grass roots.
When you start going into that you begin to tread on toes in this country, in the United Kingdom, and in most of the western world. When you start associating with the poor of this planet and the exploitation of what's happened to whole cultures and tribal cultures in Africa in particular, and you see the results of the exploitation of western colonial powers and when you want to see a movement to not only arrest that process which still goes forward today under different guises but to actually reverse it and to give an opportunity for people to control their destinies and their own natural wealth, that's dangerous ground to get on.
King was committed, increasingly, to that kind of political view. He wept in India as early as '60, '61 when he was there. He had never seen such poverty in such a massive scale. 'How can people live like this?' There's a lot of people live that like this. Why do people live like this? Most of America doesn't see that. We are a residentially segregated society forever. King saw that, wanted to bridge it and the solutions were too radical, too potentially dangerous. Jefferson was an idol of his. With all of Jefferson's foibles, remember he said, 'You need a revolution every 20 years. You need to sweep the room clean every 20 years,' said Mr. Jefferson. You need that revolution. King believed that as well.
Needed: A Martin Luther King Day of Truth
[T]he assassination of Martin King, and all of the other assassinations in the sixties...have to be seen in a historical context. You have to go back effectively, to the compelled death of Socrates, work through Caesar, all the way down and you will see whenever a ruling structure cannot control an errant leader, if they can't control him in one way or another, ultimately they assassinate him. That has happened throughout history. Americans don't understand that, so they look upon, as a kind of anomaly...the assassinations in the United States in the sixties, and they're not. They are a part of a historical process and must be viewed that way. Martin King had to be stopped. The only way to stop him ultimately was to assassinate him and that's what they did.
In his "Little Essays of Love and Virtue"
Havelock Ellis, writing in 1922
, during another period of heralded American prosperity, and perhaps sensing what lay ahead as there would be only seven years before economic disaster struck, said: "all civilisation has from time to time become a thin crust over a volcano of revolution". This was, of course, the fear in 1967 and 1968. Martin Luther King Jr was, for the transnational corporations, public enemy number one. He stood in the way of their inexorable consolidation of power. If he had played along as have many of his peers before and after, he would likely be with us today, a wealthy and honored man, a pillar of the state. But he did not choose to play that game and as we have seen the might of the steward state was brought to bear upon him, and to this day the pillars of the American Republic continue to be supported by the same foundation stones of lies and greed which he was determined to crumble to dust and replace.
August 2015: 70 years ago, nuclear weapons made extinction of all Life on Earth possible.
That prospective reality never went away and its chances keep increasing.
If we do not abolish nuclear weapons they will surely abolish us.
It is the non-nuclear-weapon states on whom we must depend to drive a process to ban nuclear weapons, to stigmatize them, to make them socially and politically unacceptable, to make it harder for nations to get away with possessing and upgrading them, and to help the nuclear-weapon states overcome this awful, debilitating addiction. This flips the traditional arms-control approach on its head. The humanitarian initiative is about empowering and mobilizing the rest of the world to say "enough." It is about shifting the debate from "acceptable," "safe" numbers of nuclear warheads to their fundamental inhumanity and incompatibility with basic standards of civilized behaviour. It is about taking away from the nuclear-armed states the power to dictate the terms of the debate and to set the agenda—and refusing to perpetuate their exceptionalism. —Tim Wright, "
A New Movement to Ban Nuclear Weapons
"
---
From: Chris Jordan photographic arts: "Edge-walking the lines between beauty and horror, abstraction and representation, the near and the far, the visible and the invisible, Jordan's images confront the enormous power of humanity's collective will."
E Pluribus Unum depicts the names of one million organizations around the world that are devoted to peace, environmental stewardship, social justice, and the preservation of diverse and indigenous culture. The actual number of such organizations is unknown, but estimates range between one and two million, and growing.
While there are a wealth of disturbing facts visualized by Jordan, still, as with all the eternal opposites, forever joined like two sides of a coin, there is also the "enormous power of humanity's collective will" to understand and be informed by. This power is what we must ALL engage, direct, and focus, to close the book on the possibility of nuclear annihilation for the sake of the children, all we share Earth with, and all yet to be born and live out their lives here long, long, long after we are gone.

E Pluribus Unum

, 2010 24x24 feet, laser etched onto aluminum panels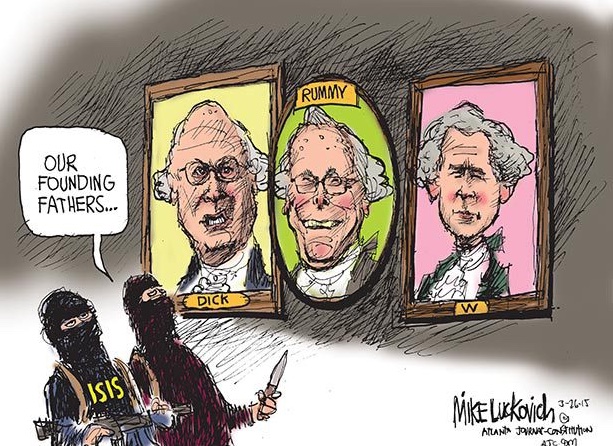 Accountability? We don't need no steenkeen accountability!
Satirists of the brilliance expressed by
Mike Luckovich
(
Atlanta Journal-Constitution
"cartoonist") tower above the pedestrian level of puerile infotainment pundit-commentators, providing incisive critical analysis of actual reality transpiring on the world scene. It was refreshing to see Mike's March 27 "Forebears" printed as the daily cartoon in Friday's
Boston Globe
Opinion Section.
John Judge
(
rest in peace
) liked to point out how, 'You don't need to read the news – you can get a much more accurate depiction of world events by simply reading the cartoons!'
"In the frontier wars between 1607 and 1814, Americans forged two elements – unlimited war and irregular war – into their first way of war which is still their way of war. I make throughout the book, connections between the U.S. military today and its foundation in these unrelenting wars that actually went up through 1890 and then moved overseas to the Philippines and the Caribbean with the same generals in the Philippines who had been fighting the Sioux and the Cheyenne in the Northern Plains."
From the Author's Note (page xiii):
"I've come to realize that a new periodization of US history is needed that traces the Indigenous experience as opposed to the following standard division: Colonial, Revolutionary, Jacksonian, Civil War and Reconstruction, Industrial Revolution and Gilded Age, Overseas Imperialism, Progressivism, World War I, Depression, New Deal, World War II, Cold War, and Vietnam War, followed by contemporary decades. I altered this periodization to better reflect Indigenous experience but not as radically as needs to be done. This is an issue much discussed in current Native American scholarship.
"I also wanted to set aside the rhetoric of race, not because race and racism are unimportant but to emphasize that Native peoples were colonized and deposed of their territories as distinct peoples - hundreds of nations - not as a racial or ethnic group. "Colonization," "dispossession," "settler colonialism," "genocide" - these are the terms that drill to the core of US history, to the very source of the country's existence.
"The charge of genocide, once unacceptable by establishment academic and political classes when applied to the United States, has gained currency as evidence of it has mounted, but it is too often accompanied by an assumption of disappearance. So I realized it was crucial to make the reality and significance of Indigenous peoples' survival clear throughout the book. Indigenous survival as peoples is due to centuries of resistance and storytelling passed through the generations, and I sought to demonstrate that this survival is dynamic, not passive. Surviving genocide, by whatever means, is resistance: non-Indians must know this in order to more accurately understand the history of the United States.
"My hope is that this book will be a springboard to dialogue about history, the present reality of Indigenous peoples' experience, and the meaning and future of the United States itself."
p r e s e n t s
How the West Caused the Crisis in Ukraine
This is an urgent appeal to pay attention to the crisis in Ukraine where the two largest nuclear powers, the US and Russia are in direct and escalating confrontation. Mearsheimer states emphatically that in the prevailing wisdom in the West, the Ukraine crisis is blamed almost entirely on Russian aggression. But this account is wrong says Mearsheimer: The United States and its European allies share most of the responsibility for the crisis. Questions in this Q & A period range from who engineered the February 2014 Coup in Ukraine, to what role the Neo-Nazis play.
Credits: Thanks to Dale Lehman, WZRD Chicago, for the recording
Dan Cohen
, founder of the nonprofit organization
Music & Memory
, confronts a broken healthcare system to demonstrate music's ability to combat memory loss and restore a deep sense of self to those suffering from it. The political system we find ourselves navigating our lives within cannot make life healthier because all such agendas as so-called health care are based on profit, not human needs.
8 December 2014
Fifteenth Anniversary of Verdict in the Martin Luther King Murder Trial
THE Trial of the 20th Century
F
ifteen
years
ago
today
the jury reached its verdict in the only trial ever held for the murder of Dr. Martin Luther King, Jr. The trial was conducted in the Circuit Court of Shelby County, Memphis, Tennessee. It began on November 15 and lasted fourteen days. The Plaintiffs were Coretta Scott King, Martin Luther King, III, Bernice King, Dexter Scott King and Yolanda King. The Defendants were Loyd Jowers and Other Unknown Conspirators. This is the most important trial of the 20th century, and yet most people have never heard of it.
John Judge (1947-2014)

alternate historian, renowned researcher, educator, investigator, advocate for real democracy
---
---
---
---
back online: W

orldwatchers

A

rchive


A Tribute To Mae Brussell

an exemplar and the most prolific anti-fascist political researcher of the latter half of the 20th Century.
"Our weapons dictate what we are to do. They force us into awful corners.
They give us our living, they sustain our economy, they bolster up our politicians,
they sell our mass media, in short we live by them.
But if they continue to rule us we will also most surely die by them."
Thomas Merton, Cold War Letters (Maryknoll, N.Y.: Orbis Books, 2006), p. 65.
10 June 2013: Fifty years ago President Kennedy gave the commencement address to the graduating class at American University. In his book, The Improbable Triumvirate: John F. Kennedy, Pope John, Nikita Khrushchev, Saturday Review editor Norman Cousins summed up the significance of that remarkable speech: "At American University on June 10, 1963, President Kennedy proposed an end to the Cold War." Khrushchev called the American University Address "the greatest speech by any American President since Roosevelt." This is the real jubilee of 2013, not 22 November.

---
---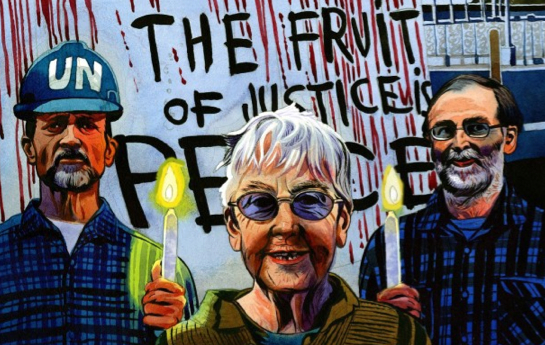 "We are truly human when we act responsibly to restore harmony and act with love and compassion to restore truth,
transparency and the equitable distribution of the resources endowed by our common Creator."
—Sister Megan Rice
"We were fulfilling our right and duty according to the US-signed Nuremberg Charter that if one knows of one's government committing a war crime, one has a right and a duty to take steps to try to stop that crime."
—Greg Boertje-Obed
"In heaven Jesus has no arsenal of nuclear weapons. And as we pray in the Our Father prayer:
'Here on Earth as it is in heaven.' ... Nuclear weapons are a product of hell and we need to send them back there."
—Michael Walli
"Letters from a Georgia Jail: Anti-Nuclear Activists Await Sentencing,"
by David Cook, Religion & Politics, January 22, 2014
Intelligence & Surveillance
"By leaking a handful of NSA documents, Edward Snowden has given us a glimpse of future U.S. global policy and the changing architecture of power on this planet." AND must listen: 35 min. 7/24/13 McCoy I-view on Jeff Blankfort's Takes on the World prog
+ Maria Gilardin's 29 min. broadcast quality production of same from TUCradio.org.
---
But then it must be asked if we can remove cultural value from one part of our lives without destroying it also in the other parts. Can we justify secrecy, lying, and burglary in our so-called intelligence organizations and yet preserve openness, honesty, and devotion to principle in the rest of our government? Can we subsidize mayhem in the military establishment and yet have peace, order, and respect for human life in the streets? Can we degrade all forms of essential work and yet expect arts and graces to flourish on weekends? And can we ignore all questions of value on the farm and yet have them answered affirmatively in the grocery store and the household?
The answer is that, though such distinctions can be made theoretically, they cannot be preserved in practice. Values may be corrupted or abolished in only one discipline at the start, but the damage must sooner or later spread to all; it can no more be confined than air pollution. If we corrupt agriculture we corrupt culture, for in nature and within certain invariable social necessities we are one body, and what afflicts the hand will afflict the brain.
---
6 June 2013—Edward Snowden[1][2][3][4]: I'm just another guy who sits there, day to day, in the office, watches what's happening, and goes, "This is something that's not our place to decide. The public needs to decide whether these [surveillance] programs and policies are right or wrong." And I'm willing to go on the record to defend the authenticity of them and say, "I didn't change these. I didn't modify the story. This is the truth. This is what's happening. You should decide whether we need to be doing this."
Yeah, I could be, you know, rendered by the CIA. I could have people come after me or any of their third-party partners.... And that's a fear I'll live under for the rest of my life, however long that happens to be. You can't come forward against the world's most powerful intelligence agencies and be completely free from risk, because they're such powerful adversaries that no one can meaningfully oppose them. If they want to get you, they'll get you, in time.
---
We forget ... that violence is so securely founded among us—in war, in forms of land use, in various methods of economic "growth" and "development"—because it is immensely profitable. People do not become wealthy by treating one another or the world kindly and with respect. Do we not need to remember this? Do we have a single eminent leader who would dare to remind us?